[column-group] [column]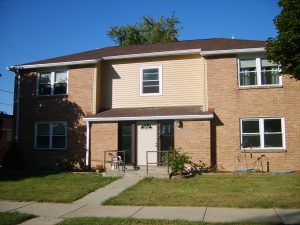 Background: Parkcrest Housing was built in 1952.  The complex consists of 13 townhouse-style buildings, holding 52 units (2, 3, and 4-bedrooms), and 2 four-unit buildings consisting of 1-bedroom units.  The units consist of 1-4 bedrooms, with 2 ADA-accessible units.  Tenants for all bedroom sizes are selected from a waiting list.  Notice of waiting list openings is posted in the legal section of the Sunday Milwaukee Journal Sentinel, the Community papers, Craigslist.org, Facebook Marketplace, WIHousingSearch.org and this website.
Description: The complex contains the following units: 1-bedroom: 8 units;  2-bedroom: 28 units;  3-bedroom: 16 units;  4-bedroom: 8 units
The 2-4 bedroom units are townhouse style, with bedrooms and bathroom located on the second floor and kitchen and living room on the first floor.  All feature basements and each unit has a private front and back entrance.  Appliances and heat are included, and there are washer and dryer hookups in the basement.  Each unit is allotted one parking space.  The complex is ideally situated between an elementary school and a little league ballpark.
Rent Determination: Tenants may opt for a *flat rent based on Fair Market Rents or an income based rent whereby a subsidy is provided to reduce the rent of qualified applicants to approximately 30% of combined household income, subject to HUD regulations.  A minimum rent of $50.00 is charged for those who qualify.  
Flat Rent Notice to Tenants 2023 rates[/column] [column]
Community Service: All adults receiving public housing assistance are required to perform 8 hours of community service work per month, unless exempt.  Community service work includes but is not limited to volunteer work in area organizations or self-sufficiency activities.  Lists of participating organizations can be provided upon request.  To be considered an exempt adult, one must be:
62 years or older

legally blind or disabled as defined under the Social Security Act, and able to provide proof of inability to comply with service requirements

the primary caretaker of a blind or disabled person

engaged in work (a minimum of 20 hours per week)

meet the requirements for exemption under the State welfare to work program

enrolled as a full-time student in any school

*Pet Policy: Parkcrest Housing permits one pet per unit, subject to qualifying conditions to ensure the continued safety, cleanliness, and quiet of the complex.  Below is a list of the accepted pets and required security deposit.  Additional pet policy information is available at the Parkcrest office and will be reviewed at the time of the pet application.
Dog (not to exceed 20 lbs as an adult and at least 6 mos. of age) $300
Note: Pit Bulls, Rottweilers, Doberman Pincers, Chows, German Shephards, and any wolf mixes will not be permitted.
Cat (4 months of age with front claws removed prior to occupancy) $300
Small bird  $50
Fish  $25
Hamster  $25
Gerbil  $25
*does not apply to service animals
Waiting Lists: When waiting lists are open and applications are being accepted, the following must be presented at the time of application:
Birth certificates for all family members (original copy with raised county seal)

Social security card for all family members

Government issued picture identification for anyone 18 years and older
Applicants are screened based on credit and rental history and criminal background.
For help in obtaining a social security card, contact the local Social Security Administration office at 800-772-1213.  To obtain an original copy of a birth certificate, contact the county in which you were born.  For Milwaukee County, obtain original copies from the Register of Deeds, 414-278-4002.
[/column] [/column-group]