Parkcrest Housing
Administered by the Housing Authority of the City of South Milwaukee
2906 6th Avenue • South Milwaukee, WI 53172 • Phone: (414) 762-4114 • Fax: (414) 762-7271
HACSM is governed by a five member board of commissioners,
appointed by the Mayor of the City of South Milwaukee.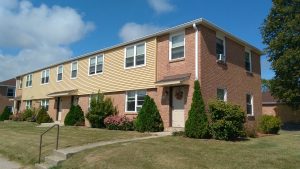 Due to concerns regarding COVID-19, only ONE (1) tenant or visitor will be permitted in the Parkcrest Housing office at a time.
Current tenants, please drop off paperwork through the mail slot in the front entry door whenever possible.
The office is open MONDAY through THURSDAY, 8:00 a.m. to 1:00 p.m.
Parkcrest Housing is currently NOT accepting applications.
When the application process reopens, applications may be obtained from the website or from the Parkcrest Housing Office.
Read more about the application process HERE.
---
The HACSM Board of Commissioners meets every other month, on the second Monday of the month, unless otherwise
scheduled by the Board.
Open Bid Requests:  None at this time

Notice of Flat Rent Adjustments: Flat Rent Notice 2021
Notice of "No-Smoking Policy" Download Form